Here, you will know about best E-Commerce websites in UAE.
E-commerce is an online retail business that sells products over the Internet. Now a days, e-commerce websites plays a very vital role in our life. We can see the importance of an e-commerce business during the lockdown period in year 2020 when everyone was stuck in the house from the fear of Corona Virus but the e commerce companies fulfill the daily needs of every person at door step only.
The rise in technological advancements has allowed for eCommerce websites to emerge and become popular in the UAE. Shopping online has become a convenient and easy way for people to purchase items without having to leave the comfort of their homes. In this article, we will be discussing the top 5 eCommerce websites in the UAE.
History of E commerce in UAE
The history of ecommerce in the United Arab Emirates can be traced back to the early 2000s when a few enterprising businesses started selling products and services online. However, it was only in the past few years that ecommerce really started to take off in the UAE.
The key reasons for ecommerce boom is the growth of internet and mobile penetration in the country. According to a report by telecoms regulator TRA :
There were over 19 million internet users in the UAE as of June 2018.
The growth of ecommerce in the UAE is the increasing number of people who are comfortable making digital payments.
According to a report by Mastercard, cashless transactions in the UAE grew by 20 percent between 2016 and 2017.
Lastly, the UAE government has also been supportive of ecommerce development in the country. In 2016, it launched an initiative called Dubai 10X which aims to make Dubai one of the world's most innovative and technologically advanced cities by 2025. As part of this initiative, the government has been working on initiatives to boost ecommerce adoption and usage in Dubai.
UAE's e-commerce market capital will be expected to grow $9.2 billion in 2026, up nearly 92 per cent from 2021, according to a Dubai Chamber of Commerce study. E-commerce sales in the UAE grew to $4.8bn in 2021, up almost 85 per cent compared with $2.6bn in 2019 and this sharp move can be traced due to increase in cashless payments.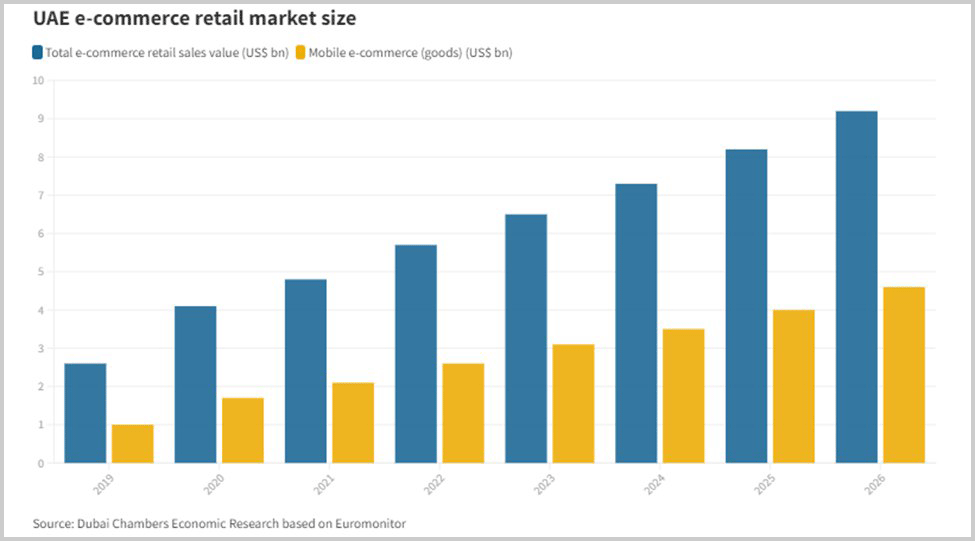 Popular E-commerce websites in UAE
There are many ecommerce websites in the United Arab Emirates. The most popular ones include Souq.com or Amazon.ae, Noon.com, Carrefour UAE, DUBUY.com and Dubai Stores. These websites offer a wide variety of products and services that can be bought and sold online.
Souq.com was the largest e-commerce platform in the GCC region. The company established by Ronaldo Mouchawar in 2005 in Dubai, United Arab Emirates. On March 28, 2017, Amazon.com Inc. acquired Souq.com for $580 million as a subsidiary and on 1 May 2019 the Souq renamed as Amazoan.ae. On 1 September 2021 Souq.com Egypt became known as Amazon.eg and officially marking the end of Souq.com. However, souq.com is running under the label of Amazoan.ae in GCC nationals. Souq deals in marketplace and grocery and people are fond of ordering from this website as this is the oldest e-commerce in UAE.
2. Noon.com
Noon is the Middle East's homegrown online marketplace. Noon is an e commerce platform founded by Mr. Mohamed Alabbar in 2016 and headquarters at Dubai, UAE. Noon is currently working in UAE, EGYPT and KSA. Noon is a leading and fastest growing online e-commerce in the United Arab Emirates. The Noon website is an online destination for anything you need. It offers great prices on clothes, beauty products straight from international designers, and more. Noon has been recognized as one of the most popular E-commerce companies in the UnitedA.E by Forbes, GQ, and Conde Nast Traveller.
Carrefouris a French multinational retail and wholesaling corporation. Carrefour is ranked at eighth place in world by revenue. It was founded by Marcel Fournier, Denis Defforey and Jacques Defforey in January 1958. Carrefour headquartered in Massy, France. Carrefour operates a chain of grocery stores, hypermarkets and convenience stores that currently contains 13,894 stores in over 30 different countries. Carrefour operates in Europe, Middle East, North Africa, East Africa, South Asia, East Asia, South America with a revenue of €81.25 billion (2021).
Majid Al Futtaim has been handling Carrefour stores in the Middle East and Africa region since 1995. That year, they opened the region's first Carrefour hypermarket at City Centre Deira, but back then it was a Continent-branded store before converting to Carrefour four years after opening. Currently, Majid Al Futtaim operates over 320 Carrefour stores in 16 countries, providing 750,000 customers with goods every day and employing 37,000 colleagues.
DUBUY.com is a part of DP World. DP World is a logistics company based in Dubai, UAE. The CEO of DP world is Mr.Sultan Ahmed bin Sulayem. It was founded on founded in 2005, Headquartered at Dubai, United Arab Emirates. When it comes to cargo logistics, they're ranked number one. They specialize in port terminal operations and maritime services. their expertise also includes free trade zones.
Dubuy.com is a global logistics business with 295 business units in 78 countries, its innovative digital platform provides a B2B e-marketplace with end-to-end supply chain solutions for the continent and beyond.
DubaiStore.com is the online marketplace government initiative by Dubai Economy and Tourism. DubaiStore.com is operated by a joint venture company between Dubai Economy and Tourism and Emaratech named Digital Economy Solutions. About Dubai Economy and Tourism: the government body of Dubai, UAE and Emaratech is a part of the Investment Corporation of Dubai Emaratech is a leading technology solutions and consulting company in the Arab world. If you are a resident of Dubai, Emaratech has seamlessly touched your daily life through its systems for the GDRFA (Dubai visas and residency), smart corridors and eye-scan in Dubai International Airport.
Why is E commerce so popular in UAE?
E commerce is popular in UAE for several reasons. First, the population is relatively affluent and has a high population of internet users. It means that there is huge potential customer for online businesses. Second, the infrastructure in UAE is very good, with fast internet connections and reliable delivery services. This makes it easy for businesses to operate online and meet customer expectations. Finally, the government is supportive of e commerce and has put in place regulations that make it easier for businesses to operate online.
Types of products commonly sold on E-commerce websites in UAE
There are a wide variety of products that can be commonly found on eCommerce websites in the UAE. These websites offer us number of products as mentioned below:
– Clothing and accessories
– Electronics
– Home goods
– Toys and games
– Beauty products
– Health and fitness products
Clothing and accessories are some of the most popular items that are sold on eCommerce websites in the UAE. This is because there is a large market for these types of products in the country. There are a wide variety of brands and styles that are available, which makes it easy for consumers to find what they are looking for.
Electronics are another popular type of product that is often sold on eCommerce websites in the UAE. This is because there is a high demand for these types of products in the country. There are many different types of electronics that can be found on these websites, including but not limited to: laptops, tablets, smartphones, cameras, and more.
Home goods are also commonly sold on eCommerce websites in the UAE. This is because many people use these sites to purchase items for their homes. Some of the most popular home goods that can be found on these websites include furniture, appliances, kitchenware, and more.
Toys and games are also popular items that are often sold on eCommerce websites in the UAE. This is because there is a large market for these types of products in the country.
Conclusion
There are many reasons to consider using an e commerce website in the UAE. With a population that is increasingly internet-savvy, there is a huge potential market for online businesses in the UAE. If you are thinking of starting an online business in the UAE, we highly recommend checking out some of the top e- commerce websites in the country and we can recommend you Noon.com will be the best website to become a seller or become a buyer.