Here are the best kink dating sites and apps for you in 2023. Every single one of these websites exclusively has a user-base that is into kinks and fetishes.
Almost all of these are completely free to signup at and use. Paid plans may exist but are mostly optional.
You may be into BDSM, abduction, Santa Clause or anything else that excites you, I'm confident you'll find someone with similar interests on one of these sites.
I've divided this piece into sites & apps. You'll also get to learn what are the primary benefits of using a website over an app and vice-versa. Let's get you your partner then?
Best kink dating sites and apps
These are the platforms which will help you find your kink partner:
Ashley Madison – Site + App, best for any and all adult needs, including Kink.
Alt– Website, has kink-specific features.
Fetster- Website, acceptable fetish community
KinkD-App
Kinkoo- App
KinkLife- App
Feter- App
Let's see what each of these offer then?
Best Kink dating sites
I know, the title said "sites and apps", didn't it? Simply scroll down if you're looking specifically for a kink dating app instead of a website.
For now, we'll start with websites. The only difference for you is the apps I've listed later on require 'downloads'. However, if you go with websites you phone storage doesn't take a hit.
Moreover, in most cases, the kink apps mentioned later require "gallery" access for obvious reasons. Most apps also require GPS access which gives them an exact location on you.
While it's not a problem in most cases, I'm a sceptical person. However, these permissions aren't required on any of the websites I'm listing  below
Let's get started then?
1. Ashley Madison- best Kink dating site + App
Website: https://www.ashleymadison.com/
There are a few reasons why I'm including this at the very top. First, it's the most well-established, reputed, most user-rich, privacy-respecting kink dating site on the planet.
Secondly, it's the one company I can trust with my gallery access, GPS location, photos and other very personal data.
Third, Ashley Madison has a fully featured website as well as android and iOS apps. So it qualifies for both the sections on this list.
Anyway, you sign up at Ashley Madison and it'll directly show you profiles close to you. You can visit any and all profiles without being a paid member. The profiles tell you interests, how they look like, and generally a few photos.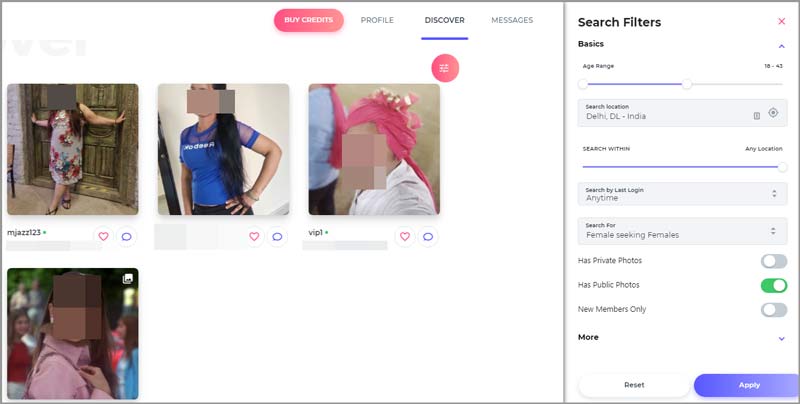 There's a very professional, in-built chat feature that lets you talk to people in real-time.
Winking at people is a free feature that lets them know of your interest in them. I said it respects privacy, didn't I? Well, it lets you lock your albums! No one gets access to these photos unless you allow them.
You can search for users based on their gender, those who have or don't have private photos, profile creation time, last login time (helps find active members), location (free location choices, not GPS-locked), even the body type (shape), and obviously, age!
You can even search for users based on what they're looking for (cyber affair, something long /short term, whatever excites me and so on).
The mobile app takes care of your privacy as well. On your phone, it doesn't say Ashley Madison (because it's so damn popular). Rather, it simply says AM on a black background. Just in case you've a spouse, they won't ever know what this is!
The site lets anyone signup for free. If you're a women, you get 100% free access, forever.
2. Alt
Website: https://alt.com/
Alt is an AdultFriendFinder sister site. AFF is already known for its massive user-base and very explicit and suggestive profiles, isn't it? So, logging in to Alt, be very sure to expect 99% profiles filled with extreme nude photos and videos.
The website is built exclusively for BDSM and kink enthusiasts. In fact, there's this entire "Kink search" feature.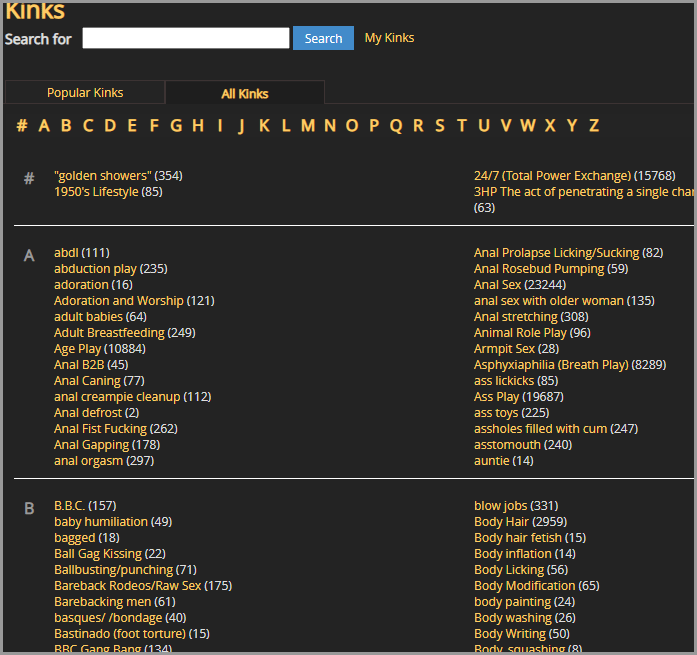 It shows how many users have selected specific kinks. There are a few hundred kinks to choose from! You can also update your own kinks in your profile so others can find you using this kink search feature.
It also has live broadcasts you can join. In fact, that's one of the most heavily used features, you can always find hundreds of models broadcasting live.
You can add people, send them "flirts", gifts, tips etc. Even if you're a free user, Alt shows you who visited you.
The feed exists as well. You can post content and let others engage on your posts, or vice-versa. Obviously, groups, magazines, and blogs exist as well (this is common for any AFF-affiliated site).
It even has meeting rooms based on your location so you can find people near you.
It's still pretty limited for free users though, doesn't even allow browsing profiles. Paid plans start at $11.99/month.
3. Fetster
Website: https://www.fetster.com/
Fetster, as the name suggests, is definitely a fetish site, isn't it? Now, it's probably the only truly, 100% free kink dating website on this entire list. You get access to every feature, for free, forever.
The homepage will show you tons of profiles. You can freely browse profiles, send private messages, write on their wall, send them gifts, add friends and basically do everything else.
Profiles do generally share a lot of information. For starters, the country, gender, sexual orientation, income, smoking/drinking habits, and obviously ,a list of fetishes. Photo albums are available as well.
Now, the interface sure is from the 90s. Even the message page feels very (very) outdated.
As for nudity, it's abundant. There are public albums full of very personal and intimate moments. There's also a public confession/question board. Users do post their requirements and preferences here and it's a good place to find your kink partner.
A lot of profiles even share their contact numbers directly on the profiles.
Kink Dating Apps
If you're more of a phone-person, here are the best Kinky apps for you. These too will let you find individuals who're into Kink and you can use these from your mobile phones.
The one benefit these have is in most cases you don't need to verify your e-mail IDs. However, in almost all the cases, you must verify your photo, or doing so will give you extra privileges.
In my personal opinion, Kink dating apps are better than websites because the chats are smoother. In most cases, there's a Tinder-like interface which is better than "browsing profiles" as on websites. Also, this Tinder-like interface lets the other person know who they "match" with, this isn't possible on the websites above.
1. KinkD
Download link: https://www.kinkdapp.com/
KinkD is arguably the most popular of these BDSM dating apps out there. So, you must register and upload a photo to use KinkD.
The actual interface is pretty impressive. It's easy to find members, especially if you click on the "trophy-like" icon at the top. This takes you to the "charmers" page, these are the members with the maximum votes the last month.
There's also a "KinkD Stars" page. This has a list of members with the most followers in any given month.
Profiles do show quite a bit of information, this includes the person's preferred roles, time they've been kinky for, ethnicity, smoking/drinking habits, hobbies, gender, age-range they're comfortable with etc.
There are two albums, the public album and the private photos. The app allows initiating chat with 1 user /day for free. If you need more chats, you'll have to pay up.
The search filters are okay, you can search for gender, age and location. Paid users also get access to "roles" and "photos only" filters. There' an entire  "hobbies" feature, clicking on the button lets you search for people with specific hobbies.
It can be used for free, however, paid users can check their followers lists and see who viewed them. It has 3 plans, 1month/3 months and for 6 months. The 1month plan is the cheapest starting at about $13.00/month.
2. Kinkoo
Download link: https://www.kinkoo.app/
Kinkoo is a BDSM dating app which uses the Tinder-like, swipe feature. You're shown profiles, you can either "skip" or "like" them. Basic information such as age, location, fetishes etc. is shown on this page.
Another way to find Kink-loving members is by going to KinkD's "browse" page. This one simply lists a number of profiles. Free members can visit profiles and check the available information for free.
Its "verification" feature is very strictly enforced. It makes it mandatory to verify your photo in order to view profile information from the "meet" page. You can still visit profiles from the "browse" page though.  Profile information generally includes the kinks the other person seeks, level of experience, age, gender, location and sexual orientation.
It has an entire tab called "verified" which shows verified profiles. However, this too is only available to verified users. The "online" tab shows you who's online, but again, only if you're a verified user.
There's a chat feature which facilitates real-time messages. Sending messages is only allowed for VIP (paid) users.
Paid members get the ability to rewind their swipes, see who liked you, swipe without limits and access profiles of others without the geo-lock (from any city you like).
There are three plans, starting at about $15.88/month.
3. KinkLife
Download link: https://play.google.com/store/apps/details?id=com.kinklifes.bdsm&hl=en_US&gl=US
KinkLife somehow has 50TRILLION downloads on PlayStore. I'm sure those numbers are doctored, however, the app itself does help you find kink partners.
It requires mandatory registration and profile picture. Anyway, the interface is pretty simple. There's your "Picks" page, this is your home. It displays dozens of profiles which are around your general geographic area.
You can manually search for users using gender, age-range, as well as location. I love the fact that you can search globally, or even in specific regions without having to pay!
The distance-range filter is what requires a paid plan but that's completely optional.
Its "Destiny" tab is basically its Tinder version. Meaning, you're shown random profiles which you can like or reject. Only paid members can initiate contact. Free members can reply to messages though. The "who viewed me" tab too is a premium feature.
Profiles include basic info such as role, height, body type, education, what they're looking for etc. If I'm being honest, the female userbase isn't very impressive over here.
Then there's a "Dates" tab. This one's the feed. Users post photos/videos here and you can "like" the content if you wish to. It lets you post date requirements so others can respond to you.
There is a "verification" feature. Didn't find many verified profiles, however, the feature does exist.
4. Feter
Download link: https://play.google.com/store/apps/details?id=com.fet.datinglife
Feter is something else that helps you find Kinky partners. This one borrowed pretty heavily from Tinder. You get random profiles, you can heart them or reject them.
It does make it mandatory to upload a bio and a profile photo though. It has this unique "free VIP" feature. You get the VIP plan for free by verifying your photo. It's important because it increases number of legit profiles and only verified members can send messages anyway.
Obviously, just buying the VIP membership without verification is possible too.
There is a "contacts" tab. It lists everyone who viewed you, liked you, you liked and mutual matches. This information too is only available for the paid members. Paying also unlocks a "diamond" badge.
Profiles generally include age, location, a short bio, preferences they're looking for, interests, role, orientation, drinking habits, interests etc.
Does have a "wink" feature. It lets them know you like them which may be an ice-breaker and  conversation starter.
Multiple paid plans exist, you can go for something short term which costs $7.99/week or a longer term plan, $49.99/6months.
Which are the best Kink dating sites and apps?
Without beating around the bush, let me tell you:
The best site for Kink dating- Ashley Madison
The best app for Kink dating- KinkD.
All the other options will let you find Kink partners as well, however, these two are the best in their respective categories.
Obviously, go give these a try and then form your own opinion on which are the best Kink dating sites and apps.